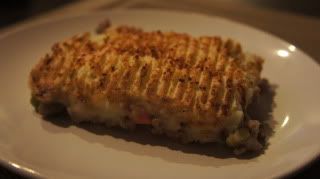 I bought the ingredients to make macarons and salt chocolate truffles but somehow, I keep postponing making them. Next week, I keep promising myself. The thing about cooking is that you have to be in the mood to cook that particular something otherwise it'll be a half hearted attempt and it'll show in the final result. I once read that cooking is a very personal affair. Two people might follow the same recipe to a T but land up with different results. If you cook from your heart, it somehow makes a difference and the people eating it can feel it.
I have eaten Shepherd's Pie a fair bit when I was young. Never quite thought of making it till recently when B.T mentioned that he loves it. So I searched the Web for some recipes and found one and made some healthier modifications. I am really pleased with the result and even happier that he devoured two large servings of the pie. That strange boy eats everything with ketchup though – rice, steak, noodles, fried eggs, sausages etc and he uses a lot of it. I was quite offended when he poured a copious amount of it onto my beautiful Shepherd's Pie. I thought it wasn't tasty and needed extra flavoring -_- But remembered that he does that for everything that he eats! How annoying! That's the reason why his favorite soup of the few that I make is the Sherried Tomato Soup.
In any case, the Shepherd's Pie has passed my own test. I'm quite critical of my food. Half of the time I think it's not good like the pear tart which he landed up liking a lot. It's not the cheapest dish to cook, surprisingly, perhaps because we buy our meats from Cold Storage compared to a wet market. I do prefer cooking at home than eating out as I can control what I put into the food but it's not always cheap for example oxtail stew which is very expensive to prepare and the reason why we seldom cook it. The 700+g of minced beef cost around S$25 and it was 'discounted'. It serves 6 so at least we have sufficient leftovers for tomorrow's dinner.
My conclusion is that cooking isn't exactly cheap to do here. The very reason why I can only afford to invite family and close friends over because it costs so much especially when I'm picky on the ingredients that I buy preferring to pay for quality as it does affect the result of the dish. My colleagues often ask me to bring my dishes to the office to share but that's likely not happening because it's going to be very expensive for us!
Anyway, slight digression, but here's the step by step pictures and recipe below the cut. Enjoy!
Scrub the potatoes, peel the skins off (save the skins, more on that later)
Cut the peeled potatoes into quarters, boil in salted water for 20-30 mins until fork slides through the potatoes easily with no resistance. Potatoes should almost but not totally fall apart)
While potatoes are boiling, season minced meat with salt and black pepper and leave aside
Tip – To save time, while the potatoes are cooking, you can prepare the cream sauced for the potatoes and the gravy for the meat.
For the cream sauce for the potatoes – use an egg yolk
2 tablespoons of softened non-fat cream cheese
Combine and whisk well with 1/2 cup of low fat milk and leave aside
cream mixture for the potatoes
To make gravy for meat, in a saucepan, cook 2 tablespoons of butter and 2 tablespoons of flour for ~ 2 minutes
Tip – use a whisk to prevent clumping
Whisk in 1 beef cube with 1 cup of water and 2 teaspoon of worcestershire sauce. Allow to thicken for ~1 minute. Leave aside
When potatoes are ready, drain them
Transfer to a big mixing bowl
Add in cream mixture that you prepared earlier on
Mash the potatoes. I don't have a masher so I used a fork. Potatoes should mash easily with no hard bits/clumps
Took around 5-10minutes to mash the potatoes till smooth and creamy
Add oil to a hot skillet, brown and crumble minced beef for about 3-4 minutes
Add 1 diced onion and 1 cup of mixed frozen vegetables
Cook meat and veggies for about 5 minutes
This looks about right
Add gravy to meat and veggies
Fill casserole with meat. Size depending on how thick you want the pie to be
Spoon mashed potatoes over the meat
Use the back of the spoon to smooth out the potatoes. Use a fork to gently drag across the smooth surface of the potatoes to create 'lines'
Sprinkle with paprika which aids in the browning of the potatoes
Bake at about 220-250 degrees C for ~ 20 minutes or until potatoes are evenly browned. I use a toaster oven which doesn't keep in heat well so I set mine at 250.
Shepherd's Pie (serves 6)
Ingredients:
2 pounds of potatoes (Russet or Idaho), peeled and quartered
2 tbspn softened fat free cream cheese
1 3/4 pound lean ground beef
1 egg yolk
1/2 cup low fat milk
Salt, freshly grounded black pepper
Olive oil (enough to coat skillet)
1 onion, chopped/cubbed
1 cup mixed frozen vegetables
2 tbspn butter
2 tbspn plain/all-purpose flour
1 cup beef broth/ 1 beef cube+ 1 cup of water
2 tspn Worcestershire sauce
Paprika
1) Boil peeled and quartered potatoes in salted water for approximately 20-30minutes until a fork slides through easily with no resistance. Potatoes should almost but not totally fall apart.
2) While potatoes are cooking, season minced beef with salt and pepper and leave aside.
3) Combine cream cheese, egg yolk and milk and whisk well. Leave aside.
4) In a saucepan, cook butter and flour for about 2 minutes. Use a whisk to prevent clumping.
5) Whisk in beef broth and Worcestershire sauce. Allow gravy to thicken for about a minute and leave gravy aside.
6) When potatoes are done, drain them and pour into a mixing bowl.
7) Add cream mixture (that you prepared earlier on) into potatoes and mash till smooth. If you don't have a masher, use a fork like I did. If you use an electric mixer, the sharp blades will break down the starch and make the mixture gummy.
8) Add oil to a hot skillet and brown and crumble meat for about 3-4 minutes. Use the spatula to constantly 'break' up the meat similar to making scrambled eggs.
9) Add mixed vegetables and onions and cook for about 5 minutes, stirring regularly.
10) Add gravy that you prepared earlier to the meat and mix well.
11) Fill casserole with meat, spoon potatoes over meat evenly.
12) Use the back of a spoon to smooth out the potatoes and use a fork to gently drag across the potatoes to create 'lines'.
13) Sprinkle paprika on the top.
14) Bake for approximately 20 minutes or until potatoes are evenly browned.
The meat turned out nice and moist with just the right amount of gravy. You can give it more 'punch' by eating it with a bit of ketchup! The potatoes should be creamy and fluffy and slightly crusty on the top!
I mentioned above to keep aside the potato skins instead of chucking it. This is what we did –
1) Lay the potato skins on a baking tray. Season with olive oil.
2) Sprinkle on black pepper and herbs – we used lemon pepper. You can try mixed herbs, or rosemary or even truffle salt.
3) Bake the potato skins till slightly crispy.
It's really tasty and healthy. The nutrients of a potato are found mostly in the skins! It just doesn't look pretty on a Shepherd's Pie! So instead of throwing the skins away, baked them and eat it.
4 Responses to "Shepherd's Pie"
Leave a Reply