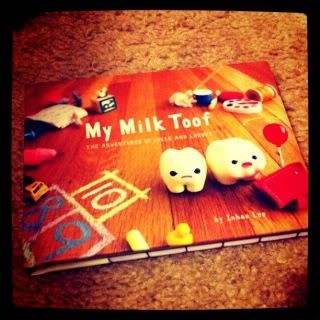 My Google reader is subscribed to many blogs of varying focuses – fashion, blogs of personal friends, lifestyle, cooking etc. One of my all-time favorites is My Milk Toof and if you aren't already following it, do yourself a favor and do so!
The pictorial blog is about two milk teeth Ickle and Lardee in funny or daily situations and the set-up is so cute and funny, it cracks me up each time I see it. In fact, I introduced it to T and he's a huge fan now and often laments to me – How come she doesn't update much? -_- Honey, it's quite tedious to do the set-up you know.
Anyway, the book was released and I was dying to get my hands on it. Finally received it and though you can literally finish flipping through it in less than 1/2 hour, it's definitely worth getting. The photography and concept is amazing and I'm thinking I might order a few of the prints to display in The Studio. The book itself is definitely getting a place on our coffee table.
P.S Watch the video for the behind-the-scenes and you'll totally appreciate her works!
One Response to "My Milk Toof"
Books as gifts » thebokeeffect.com Says:
December 17th, 2011 at 10:22

[…] wine charms, mascara, measuring spoons, a jeweled ring, a scarf etc. One of my favorite gifts was My Milk Toof  book to a selected few that I knew would appreciate it. I think the best part about it is that […]
Leave a Reply