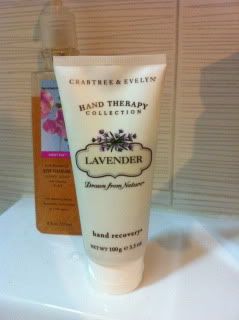 Every weekend or so, I have something called 'beauty-night'. That means I take a few extra steps to pamper my skin and hair and that includes (some or all depending if I have time) a facial mask, hair mask and foot scrub. Each time after I return from a trip, I feel this great need for all these extra pampering because air travel, correction, long haul flights take a toll out of the system. My skin feels dehydrated and aged mostly -_-
For my recent birthday, I received a very thoughtful gift (pictured above) from J. She said it would come in useful for my travels. Initially, I thought it was a generous sized tube of hand moisturizer which I coincidentally happen to use this same scent and brand and I was going to slather it all over my hands before I slept when I realized it's meant to be used as a scrub *doh. So for the first time, I tried out a hand scrub, and those little exfoliant beads felt like scented sand on my hands and it felt great! I had to be careful not to get over-enthusiastic and over-scrub. My hands felt really soft and smooth after so I'm now officially sold on this.
For those frequent travelers, this might be a great addition to your beauty stash. I've an upcoming trip to Seoul and methinks it's time to stock up on (affordable) beauty masks and products! I use the ones from Face Shop – any other recommendations, please comment or email.
Another recent beauty find that I would like to share is the M.A.C Prep and Prime Transparent Finishing Powder. I don't use heavy foundation or pressed powder and usually either put a type of baby powder over my face – love Bare Escentuals but it causes me to break out so I gave away mine. I decided to try out the M.A.C powder and it doesn't give coverage but provides a matte finish since my facial sunblock gives me face a slight 'shiny' look which I don't fancy. I've used it for several weeks and like how light it feels. I use it on its own with no other base so I'm not sure what the effect is if used with powder, but check it out if you are looking for a similar type of finishing powder.
Much as I have a weird obsession with make-up and buy more than I actually use or need, I usually don't use a lot of it and stick to the mantra that a thorough and good cleansing routine is better for the skin than piling on make-up for coverage. Cleanse, tone, miracle water (for me), moisturize and sunblock application is all you really need and a touch of blush and eyebrow drawing and lash repair.