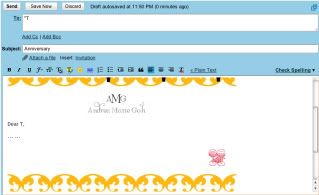 If there is one thing I missed about my growing-up years is exchanging letters with friends/pen-pals that were written on beautiful stationery. I used to have all sorts. Winnie the Pooh that came complete with the honey pot and bumble bee stickers and matching envelopes, Suzy's Zoo and friends, Paddington Bear and even Hello Kitty. I spent a lot of money buying all these fancy stationery and it was nice to send and receive a special one in return.
I don't think many still write letters these days. It's kinda sad. But with this new cyber age that we are in, everything is digital. All of us use emails, sms-es, Whatsapp and social media to communicate. It's simple and no frills – an email comes in plain text and at most, an emoticon or two and colored font. There are sites that offer digital services where you can send an e-card or evite but that's about it.
The friendly people at MeebleMail contacted me to share about their online stationery service. Knowing that I love fashion, I was shown a couple of floral patterned stationery inspired from the summer floral trends on the runways. I was quite tickled and my interest was definitely piqued 😛 I was given a gift certificate to buy some designs and try out this cool service which I was very excited to do so!
Founded in 2010 and newly launched in Spring 2011, the concept of MeebleMail is simple. The ordinary look of boring standard everyday email is magically transformed into stylish personalized e-stationery that can be inserted into Gmail, AOL, Windows Live/Hotmail and Yahoo! Mail. The stationery can be customized to include your name, monogram, address or a motif and you can also opt to add in other personal details like an address or contact number. The process is very simple and you don't need to be techie to figure out how to implement this service into your personalized email.
The price of each email stationery design is USD$4.99 and is yours to own for a year. What this means is that during this year, you can change the content/text of your email, re-customized the monogram, name and additional details. It's flexible. The only aspect that you can't change is the stationery border that you chose and purchased. Isn't that fab? Plus, there are over 600 fashion inspired designs to select from and I was quite torn between choosing the polka dotted borders, the cupcake designs (definitely going to buy the solo cupcake!), the cute animal prints or preppy inspired designs. Using MeebleMail, you can now send out personalized and fun emails to invite people to housewarmings, bridal shower, engagement party, birthday celebrations etc.
Here's the interesting part for all you readers. Firstly, MeebleMail is running a 20% off back to school special. Simply key in the promo code – SCHOOL to enjoy 20% off the entire email. This promotion is valid through Tuesday, September 13, 2011 (U.S timezone).
Next, MeebleMail has kindly offered to giveaway a USD$10 gift certificate to one lucky reader! That allows the winner to select 2 designs for free! The good news about this giveaway is that it isn't restricted to location i.e. EVERYONE that is interested to win this gift certificate, can enter. You can be living in Singapore, Japan, Australia, Hong Kong, the U.S etc, you are eligible to win.
For more details on how to enter this contest, click to read below the cut and also, see a sample of the stationery that I created with more screen shots on the easy process of using this great stationery.
<UPDATE: Contest requirements amended for privacy purposes>
The anniversary of T and I is upcoming
I decided to select a design and email the details of the celebration. I chose this design because it'll be part of the theme – 'lounging' and also, the bird icon is quite special to us as The Studio's is decorated with bird and cat wall decals. As shown in the first picture above, I inserted my name and monogram and also added a motif – wine glasses to celebrate of course! It is very easy to customize the stationery and there are samples to click on for ideas.
Okay. So how do you participate in the MeebleMail giveaway?
1) Leave a comment on this post stating your name and valid email address.  (email isn't required to be stated here publicly to prevent spamming of participants' email address!)
2) State which is your favorite MeebleMail stationery design by surfing their fabulous collection.
Easy peasey.
This contest ends on next Sunday, 28 August, 2011, 5pm (Singapore timezone). A lucky winner will be picked via  random number generator and the winner will be announced on this site. The announced winner will need to contact me so that I have his/her's email address. The winner will be contacted by MeebleMail with the gift certificate redemption code.
Good luck!
8 Responses to "MeebleMail and giveaway"
Leave a Reply