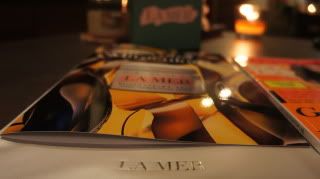 La Mer. A luxurious premium beauty brand. The legendary Creme de la Mer and Miracle Broth™. The beauty line that most women would have heard of but can only dream of having. I've long heard of La Mer. Truth is, I never had the opportunity to try out the products and I didn't know the wonderful story behind its origins.
When the Cosmopolitan team contacted me with an invite to La Mer's "A Beautiful Journey", I accepted without hesitation. Cosmopolitan graciously extended the invitation to two of my friends (so that I wouldn't have to go alone :P) so I invited my beauty crazy lovelies B and E.
The evening couldn't have been more perfect. Great company – bumped into a couple of friends, fantastic 7-course dinner (was totally pampered and spoilt and stuffed to the brim, in a good way), inspiring sharing sessions from 3 beautiful unique women, La Mer's Cecilia also took us through a fabulous session on 'The Ritual' on the proper way of cleansing and pampering your skin and we had a chance to sample the wide but comprehensive range of La Mer products and an insight into the makings of La Mer creams and concentrates.
The La Mer range does come with a high price tag but for very good reasons. The famous Creme de la Mer was created after aerospace physicist Dr Max Huber suffered severe burns in a laboratory accident and initiated his own research to manufacture a product that could transform the look of his affected skin. It took him 12 long years and 6,000 experiments but the efforts and hard work paid off and Creme de la Mer – La Mer's very first formula, was born.
The secret in the creme is the Miracle Broth™. Made out of a specific North American Pacific sea kelp (whose name I can't pronounce) that has an innate ability to regenerate itself and possess nourishing properties that was beneficial to the skin. Dr Huber combined the simplest and purest ingredients and using a whole lot of science resulting in the amazing Miracle Broth ™ which is the main reason behind the Creme de la Mer's fantastic properties.
I was quite intrigued after hearing this story. It's no wonder the Creme de la Mer is often known as the 'miracle cream'. If a cream could heal burned skin and improve the physical appearance of the damaged skin, how amazing is that? I am so tempted to buy the cream to apply it on this keloid scar that I have on my knee since I was 6!
Many mistaken La Mer to be made for older and more matured women. This is not the case from what I have learnt. The legendary Creme de la Mer is currently manufactured in 4 different textures to suit all skin types and preferences. It totally makes sense. Whenever I travel overseas, I tend to use richer creams but prefer water-based products when I'm in humid Singapore. So this option of 4 varying formulations is good news to me.
What are the 4 types?
1) Creme de la Mer – the original miracle cream that Dr Huber first created. It's super rich and aids healing and works at drastically renewing the appearance of the skin. Best suited for dry complexions.
2) Moisturizing gel cream – contains the original Creme de la Mer but in a unique gel structure of the sea kelp. Texture is lightweight and non-greasy but still works at hydrating the skin to the max and I would say, most suitable for our humid and warm climate here.
3) Moisturizing lotion – difference between this and the original Creme de la Mer is that it is more fluid and glides on easily onto the skin. It is meant for those that prefer lotions versus a thick cream and just want a light moisturizing layer on top of the skin.
4) Oil absorbing lotion – most suited for those with oilier skin requiring some oil control, it is lightweight and oil-free. When applied, it creates a smooth matte finish.
Bet you didn't know all of this riiight?
So it was really fantastic to not only be treated to a fabulous full course dinner – food at White Rabbit is da bomb by the way. I'm still dreaming of that FANTABULOUS chocolate dessert with salty caramel. *drools, but to also be given an insight into the products so the next time I decide to select a La Mer product, I would know exactly what I want!
Food and beauty talk aside, I would give this beauty event two big thumbs up. Great job from both Cosmo and La Mer and the fantastic people from Goodstuph, I would say the next time I attend another beauty event, it would be quite hard to beat this one! The La Mer staff were so friendly and ever-ready to dish out useful advice to all the ladies, I was tempted to buy some products on the spot. We went home with some samples as well which I'm intending to use on my business travels where my skin will be most stressed out and dry and am quite excited to finally try out the La Mer range. Also, speaking of Goodstuph, these folks are the best. Not saying it because I personally know Pat but because they always always kick-as*.
So a big big thank you to the lovely people at Cosmopolitan. For those who were unaware, Cosmopolitan HAS launched in Singapore after a loooong 22 years hiatus and as a Cosmopolitan Ambassador, I want to tell everyone about it but I don't think I really need to because everyone seems excited about the mag already – T was actually reading the mag and in his own words, he said that he likes it because the content is more liberal and opened and less restrained. Haha. And this is the guy who is exposed to all my frivolous magazine reads. So Denise, if you are reading this, hope this makes you smile.
Finally, my absolute favorite takeaway from "A Beautiful Journey",
Life is whatever you want it to be. Nothing is impossible.

Debra De Cotta
Those three women that shared their stories with us. WOW. There was talented Yip Pin Xiu who lives on life to the fullest even though she faced a big setback when she was young and was unable to use her legs, she lived with full determination and pride of who she was and winning in the Olympics. She reminds me of  Sarah Reinertsen. And Debra's amazing fight with cancer and post-recovery and what she has achieved including the impossible just because she stayed feisty and determined – completely and totally inspiring.
It was indeed a well-spent evening and a beautiful journey with friends!
Official pictures from the event courtesy of Goodstuph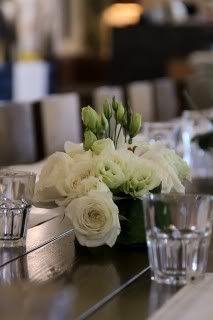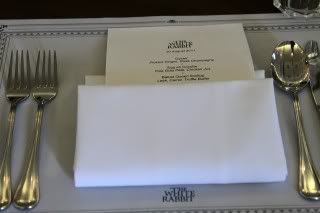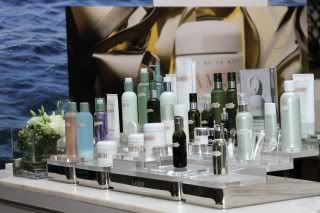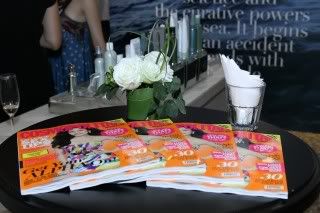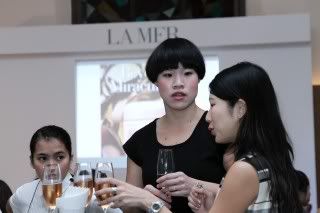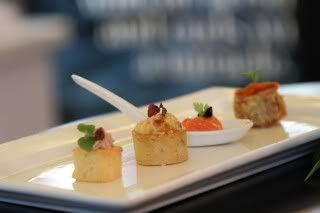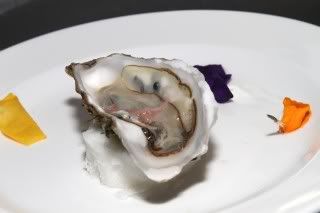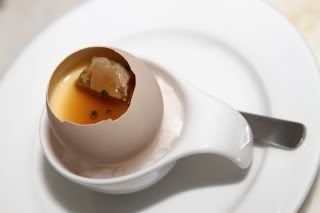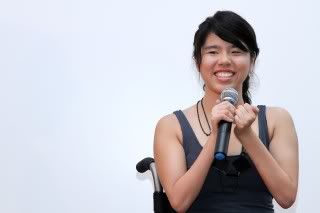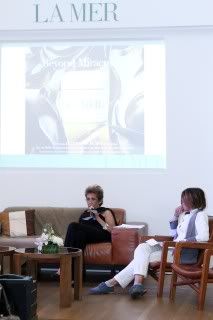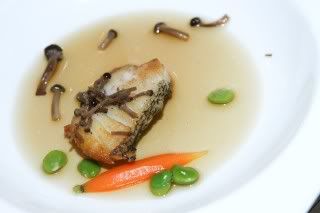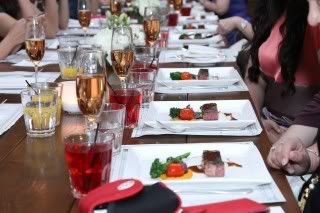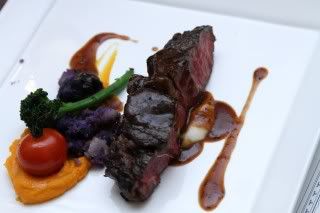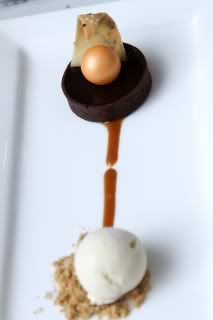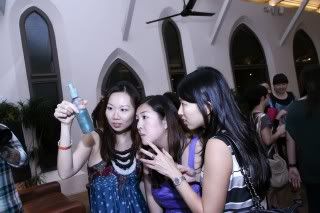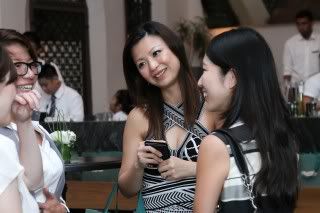 Some pictures from my Nex-5. Uh no food pictures this time around because the official photos were much better!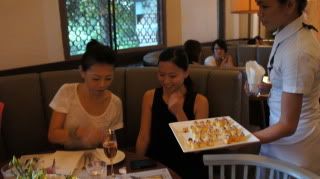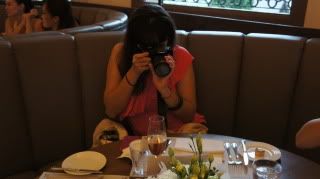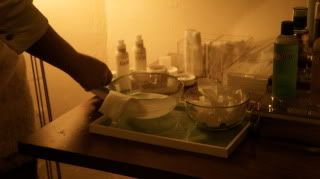 3 Responses to "A beautiful journey by La Mer"
Beverly! Says:
September 6th, 2011 at 11:01

I'm gobsmacked at the quality of the professional cameras. Totally should've waited for the pics before I made my own blog entry, lol.

And HAHA at all 3 of us looking all fascinated-like at the La Mer cleanser!

Andrea Says:
September 6th, 2011 at 11:45

Hehe ya quality from an slr is unbeatable plus photography skills! I was asked to wait for the pics so I did. So many to choose from!!

Current three » thebokeeffect.com Says:
July 3rd, 2012 at 07:07

[…] first sampled La Mer after attending the wonderful event months back. The La Mer moisturizing gel completely impressed me and I was sold on the brand. […]
Leave a Reply