I first read about Luke's Oyster & Bar over at Ashley's and subsequently heard a couple more raving reviews about it. The keyword was 'American food'. As A had mentioned, it is hard to find good American food here in Singers. Many mistake 'American food' for fast food aka burgers and fries and everything fried. Truth is, America does have its own signature dishes (which I obviously learned dating an American). Think good old apple pie, mac and cheese, creamed spinach, cornbread, true blue smoked BBQ ribs (upcoming post on that) and so much more. And you do have versions of that sold here but it's very different from the authentic version.
We decided to celebrate our 4th anniversary early and T was really keen to check out Luke's so reservations were made and we were quite excited about it. Most would not advise to have seafood at a restaurant on a Monday, but we didn't think that the food was any less fresh and in fact, Monday is great to swing by because it was nice and quiet.
We ordered a feast. It was so much food, we both were stuffed up to our necks and appreciated the stroll back home. We fell into immediate food coma and literally stoned out on the couch for a good while. Hehhe. But seriously, no regrets because everything was spectacular and whatever that we opted for got the American boy's stamp of approval and in his own words "I feel as though I am at home right now!" Home in State side that is.
Lobster mac and cheese, creamed spinach with fried garlic and a crispy soft boiled egg (THE BEST! According to T, it's signature to have the cripsy egg in the States but you hardly have it served with creamed spinach here!), the Signature Foley "Georges bank scallops" that was simply roasted but unbelievable delish and served with a yummy coleslaw, the M.F.K Fisher's Oyster pan roast that was accompanied with a sea urchin toast (unique taste that was salty yet platable) seasoned with smoked paprika and bottarga – it was almost like a clam chowder, very salty but in a good way and the flavors seamelessly worked together and Maryland jumbo crab cakes with a grained mustard sauce (never seen so much crab meat in a crab cake so this was well worth every cent!) Oh. And dessert. How could we miss out on that? 😛 I went straight for the key lime 'pie' with toasted meringue. EVERYTHING was insanely (and sinfully) good.
It was such a wonderful evening. Service was impeccable – attentive but not intruding, and as it wasn't a busy day at Luke's, we enjoyed a quiet time – felt like we had the whole restaurant to ourselves 😛 , we giggled, we laughed, we nattered and of course, ate like pigs, before stumbling out of the restaurant or I should say, almost rolled out of it.
Would I recommend it to anyone? Most definitely! Hit it up! It'll be well worth it.
Luke's Oyster Bar/Chop House
20 Gemmill Lane
Singapore 069256
+(65) 6221-4468
Mon-Fri: noon till late
Sat – 4pm till late
Closed on Sundays
Oysters happy hours: 4-7pm
M.F.K. Our portions were nicely split as they know we were sharing. Top notch service for you!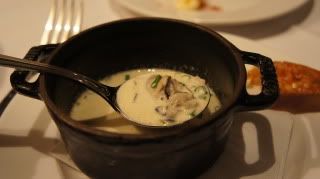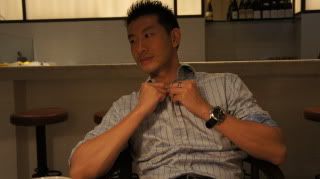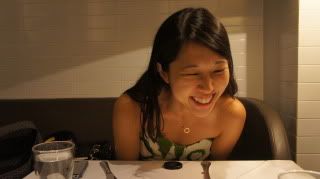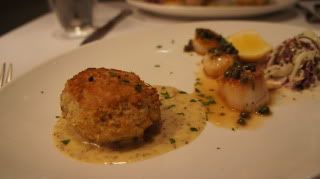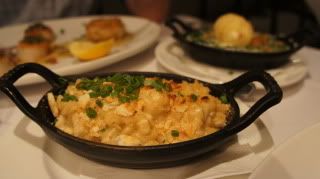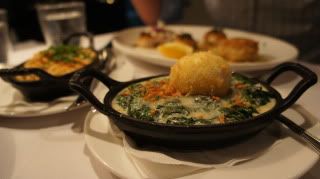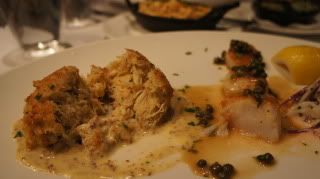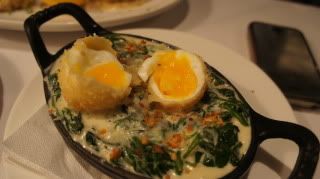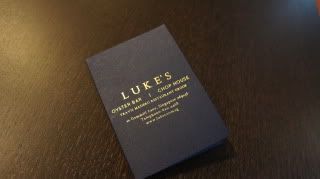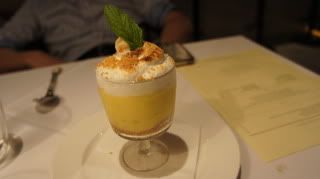 2 Responses to "The 4th at Luke's"
Candice Says:
September 8th, 2011 at 00:57

i had the best cream spinach when i was in san fran! clam chowder too at the fisherman's wharf. i love that the staff split our portions for us nicely when they knew we were sharing too. i miss US!!

Andrea Says:
September 8th, 2011 at 12:27

My best chowder was in Seattle! I miss the US when I'm back in Sg :p
Leave a Reply