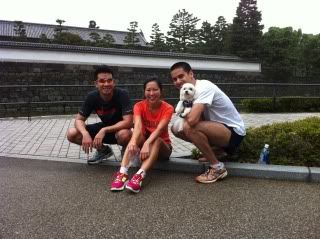 Tokyo in June is brutal. It's humid – more so than Singapore (Manila and Tokyo is actually worse in humidity compared to Singers. In Manila, it's best to run 5-6am or it gets unbearable. Tried and tested.) With all the insane amount of food that we stuffed into our tummies, we decided that a run or two was necessary.
I love the running culture in Tokyo. You see many runners along the popular running routes and what is interesting is that the Japanese runners don't look like hard core runners with their psychedelic running tights and long sleeved tops (beats me to how they can tolerate the heat wearing so much stuff during running!) but a warning – they all run fast. Those that don't look like runners are the ones that will sprint past you as though they are merely taking a stroll in the park. I got overtaken numerous times.
It was tough keeping up with the boys. Muu and his pretty momma cycled beside us and Muu got really competitive and would start whining whenever D was ahead of him. Hehe. It wasn't that long of a run but it felt like forever for me! The best part of the morning? Dropping by Saint Marc Choco Cro (chain that you can find all over Tokyo) for one of the best buttery flakey chocolate croissants! A couple of doors down was this shop selling a popular Japanese jelly dessert that has red beans inside.
Some think that it's madness to workout during a vacation but for us, we actually enjoy it so that to me, was quite the perfect Sunday morning of a vacation – a run, fab company, choco cro croissants, yuzu drink and some dessert. More please?!
Saintmarc Cafe Choco Cro
1-9-6 Yotsuya
Shinjuku-ku
Tokyo
+(81) 03-5368-2309