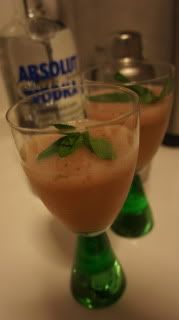 The new paint smell in the new office has been driving me nuts and work too so I felt that I really needed a drink. Since T bought home an entire orchard after I said, "Buy some fruits" – we landed up with mangoes, nectarines, grapes and goodness know what else, I decided to use A's grape basil recipe (but drastically cut down the amount of vodka inside it) to mix up a cocktail.
Cocktails are fairly easy to prepare. You just need to experiment a little and add in the proportions according to how you prefer it to be. I tend to like my alcohol sweet – yes, I know that's highly unhealthy but my poison is mostly mojitos, martinis, pimms, moscatos.. you get where I'm coming from? And keep the liquids cold. I swear having alcohol really chilled makes it taste drastically better.
So here's the easy recipe for this cocktail (Thanks A, once again – I'll try the watermelon one the next time around), and you can also omit the alcohol to make it kids friendly and it's fab for a hot day.