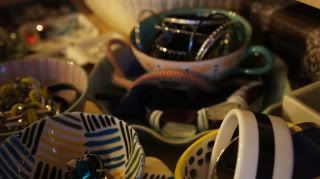 If you noticed, I don't just stick to one fashion brand. I think that is a little 'tacky', I may have a few favorites but I do love variety as each brand has their own unique identity and style. Sometimes I dress up then look at myself in the mirror and go "Oh my! I'm top to toe in designer brands." And change a few things out. Most of the time I dress in half-darkness since T is usually snoring away like a pig when I leave The Studio. So I hardly get a good look at myself before stepping out which sometimes explains why I look mis-matched or dressed like a kindergarten kid.
Before you leave the house, look in the mirror and take one thing off. ~ Coco Chanel
I love Coco Chanel. She is the epitome of elegance and class, incredibly chic and stylish, never looking like she's trying to hard. I should really get her books of quotes – side track. That quote of her is so true. We dress ourselves up like a Christmas tree, piling on way too much make-up, accessories and stuff. Sometimes, it's okay to have a stack of chunky clanky bangles that don't match – it's deliberate, or bold clash of prints. But most of the time, less is more.
In the same stream of thought, I like mixing brands and styles up. If you have too much of one, maybe take one item off. Like the boys in my office. O.M.G. They wear nothing but the company's products. TOP TO TOE. Shoes. Berms. Tee. Jacket. Repeat for the next few weeks, months and years. I can't imagine what happens when they leave the company. It's an overload.