My trainining for the upcoming marathon next Feb isn't coming along too well. Working full time with crazy work schedules and training for a full marathon is challenging. I have no idea how my colleagues train for a blady Ironman! You need heaps of discipline, determination and positive thinking to get you through it. Trust me. When you're in the office from 7am to 9 at night, without time to even lunch, running is probably one of the last thing on your mind.
I am now frantically trying to get back on schedule and thanks to best bud D and the panda, who are both training for their Ironman, I have some company. These guys are A-Mazing. They wake up early in the morning to put in the hours and earlier this week, I was dragged out for an early morning run. It was hard to refuse especially when D said he'll pick me up from my house. Doh. How to say no to that?
So it was waking up at 5ish, waited for the pickup at 615am and then we did a slow run for 90 minutes. Even though it was slow, we still walked here and there. Tells you a lot about my current fitness! But, I'm glad I did it. Thanks to the two monkeys for the motivation. I'd better make full use of my gym membership which is wasting away!
On a related note, check out my 1 second of fame in the Hood to Coast movie!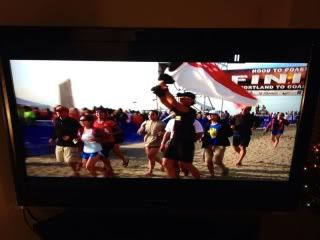 That's me on the left in the bright blue shorts with my team as we ran towards the finishing line. This was at the first HTC that I ran!
Leave a Reply