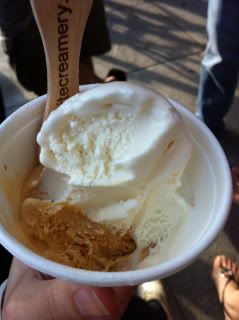 I hardly queue for ice cream – except at some fabulous gelato place in Italy. But if a couple tell me that I should and it's not an insane wait in sweltering heat, why not?
Bi-Rite Creamery  was in my books – worth the queuing (wasn't that bad as the lines moved quickly) and the calories. I've always been tempted to buy an ice cream maker but chances are, it'll land up as a white elephant so that has always been a thought and never materialized. I don't mind paying for good ice cream because firstly, ice cream if fattening so might as well load up on calories that taste good, secondly, I'm lactose intolerant which means that ice cream does funny things to my tummy – you don't wanna know! SO, it'd  better be good!
The ice cream here is all hand-made (heard the other desserts rock but we didn't have stomach space for those too) and in small batches so every scoop is quality. Also, the toppings are also made in-house so it's fresh and yummy. I had the salty caramel and lavender while T had the  ricanelas (cinnamon with snickerdoodles) and all were delicious.
Speaking of which, does anyone have an ice cream maker that I can borrow? I think I can make some … lavender ice cream (just heard T groan). Story on that coming up..
Bi-Rite Creamery
3692 18th Street
San Francisco
CA 94110
+(1) 415-6265-600
Sun-Thurs: 11am-11pm
Fri-Sat: 11am-11pm