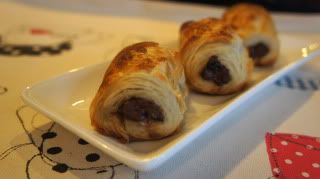 The newly opened Paul's had me craving for chocolate croissants (I first had Paul's chocolate croissants in Prague and it was THE BEST!) and I was also missing choco-croc from Tokyo so I decided to make my own and the process is ridonkulously easy. In fact, all you need is THREE ingredients. Yup. That's it. The original had a fourth but I decided to omit it and I really liked how my turned out. T polished off four right away and I managed to lure my sis and BIL over for some freshly baked pains au chocolat too
So this will be the simplest dessert that I've ever made. In fact, I am going to ensure that I always have 2 packs of frozen puff pastry and quality baking chocolate like Ghiradelli's in my refrigerator so that I can whip up some desserts should guests pop by on short notice!
Speaking of frozen puff pastry, that is a god-send. I swear. Remember those flaky cheese twists that I made some time back? That is another reason why I always should have frozen puff pastry at hand. And gruyere cheese or some sort. I am a bit of a purist or snob when it comes to cooking. I prefer to make things from scratch i.e. the pastry of chicken pot pie instead of using ready-made short-crust pastry. There are times where I do cheat but I don't call that 'cooking'. It's merely putting together a meal just for the sake of convenience. But when I do cook, I try my best to make things fresh. There are the exceptions. Like making your own stock which takes up too much time and more importantly, I simply don't have storage space for that in my freezer. Flaky pastry is another one. Have you tried making it from scratch? Ohmygawd. It's nerve-wrecking and insanely difficult. Takes up too much time and effort so I fully embrace frozen flaky pastry. And thank gawd for the easy availability of that, making desserts is easier for those recipes that call for it.
Petit Pains Au Chocolat (makes ~ 12)
Ingredients:
1 sheet frozen puff pastry, thawed, cut into 12 squares/rectangles
1 small egg beaten and beaten with equal parts water (egg glaze)
7 ounce of semi-sweet chocolate chips/bars
Sea Salt
1.  Preheat oven to 205°C/400°F. Line baking tray with baking paper.
2. Roll out thawed puff pastry on lightly dusted floured surface till about 3mm thick.
3. Cut the rolled out sheet into approximately 12 squares.
4. Brush the top of each puff square with egg glaze.
5. Place chocolate chips in a line near edge of pastry square.
6. Roll up dough tightly, enclosing chocolate.
7. Place pastry rolls on lined baking tray, seam side down.
8. Brush top and side of pastry with egg glaze.
9. Sprinkle salt on the top of each.
10. Bake for ~ 15 minutes or till golden brown. Serve warm.
*Pastry rolls can be made a day ahead. Cover pastries with plastic wrap and refrigerate. Cover and refrigerate remaining egg glaze and glaze the rolls before baking.
14 Responses to "Petits Pains Au Chocolat"
Leave a Reply