My third marathon took place in beautiful Tokyo and though it was the marathon (out of the three) where I faced the most obstacles (has gastronitis, food poisoning and heavy work commitments), the race took place better than expected. And with fabulous, let me say again, FAAABULOUS support from amazing friends and T!
This is going to be one helluva long report so bear with me and I'll add in pictures in between to make it more interesting 😛
Pre-race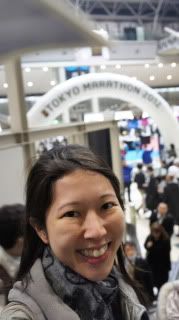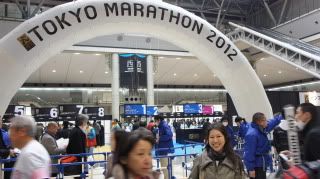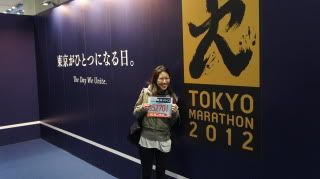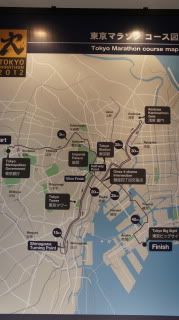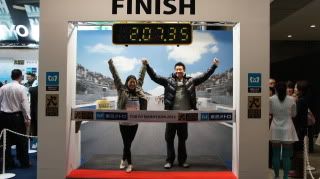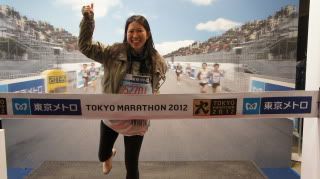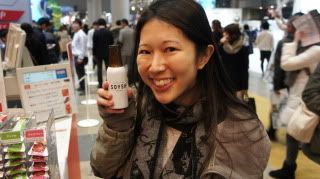 The build up to the race (for me), usually starts off with us flying in a few days before, collecting the race pack, exploring the race expo, carbo loading, plain simple relaxing and resting. The race expo location was quite a distance away so we spent almost half a day trekking over, exploring and making our way back.
I do love race expos. Each marathon that I've participated in (New York City, Chicago) were all different. Different vendors, different vibes, different experiences. I don't mean to sound like a snob but race expos overseas are more worth exploring and going to compared to the ones in Singapore. Your goodie bag consists of mostly discount coupons, tiny samples and nothing thrilling to look forward to. The ones overseas come packed with goodies, actual samples, useful items and loads of tasting, sampling and even free massages are sometimes provided.
I loved how well organized the Tokyo expo was. Directions were clear and even if you didn't understand the instructions in Japanese, you could always find someone who could speak a little English. I particularly loved how thoughtful they were at the photo booths – the ones where you pose for a photo at the 'finishing line' or 'receiving a trophy' ecetera. Crocodile clips were provided for us to pin our race bibs to our clothes before the photos were taken (how funny!) and the girls were all ready to help us to snap a few shots.
The samples and freebies given out at the race expo were generous – actual sized products including Asahi zero-alcoholic beer *ahem, packets of salon pas, bread packets.. and what's amazing is that people queue in an orderly manner to get the freebies. We must have spent about an hour an half at the expo – great time spent at the Nike booth, before heading home with our bags full of freebies.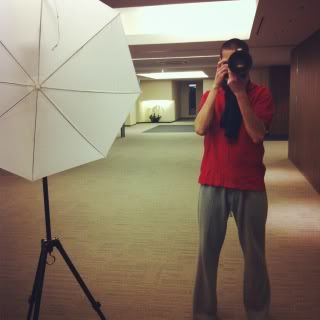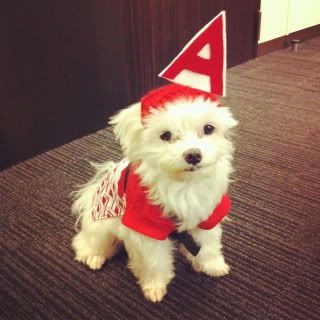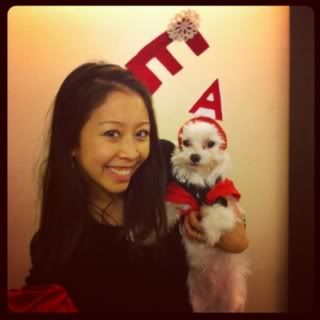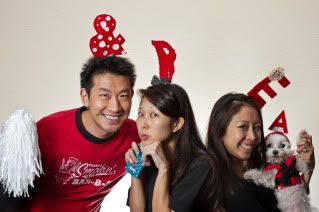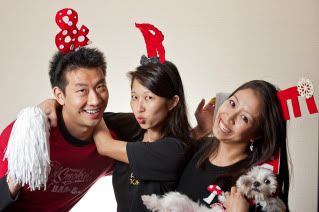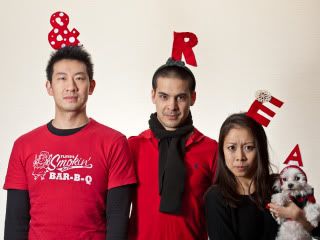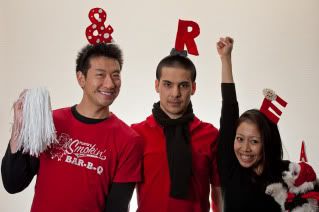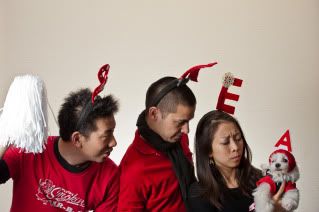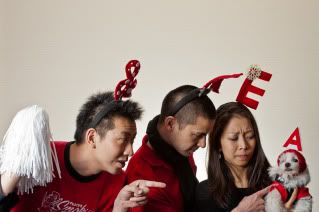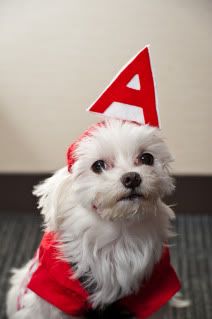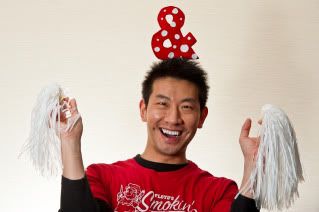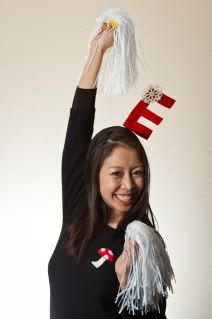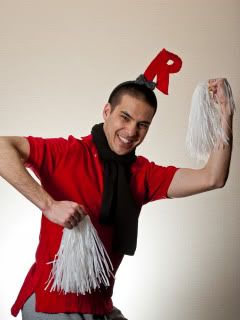 My supporters – T, Z, D and Muu went full out for me. Z made all these awesome props for everyone and we even did a hilarious photoshoot. I think the neighbors thought we were all weird .. we were giggling so much, I think that took away any pre-race night jitters that I usually feel and though I slept quite late, I did have a good solid rest.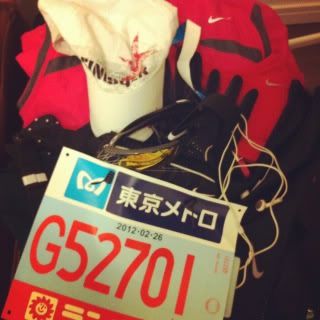 I always prepare for my marathon as though I'm going to war. There's a billion things to clip, prepare, pack and pin. My 'lucky' items are my rosary and finisher's necklace from last year's SF half marathon, my favorite tights (currently my polka dotted), my iShuffle and the usual stuff that I use such as my Oakley's which I've been racing with since 2004! Gloves are an absolute must-have for cold weather races and as the temperature was expected to be between 5-8°C – I was fully prepared.
Race day!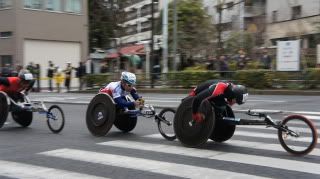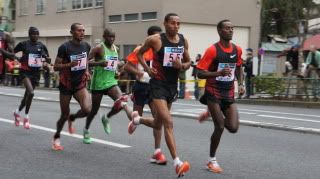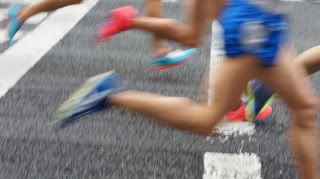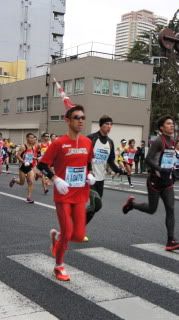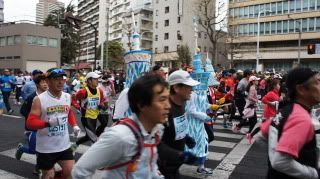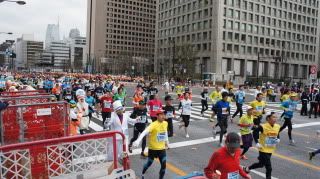 I woke up about 2 hours before I was scheduled to leave the house. Took my time eating my usual pre-race breakfast of 2 slices of peanut butter bread and added in a glass of iced milo. Pre-race jitters started to set in and I was spending quite a bit of time in the bathroom. T accompanied me to the race start, which was really helpful cos it calmed me quite a bit – first time racing a marathon by myself, took my jacket and kissed me good luck.
I think the trick is to go to the start early enough but not so early that you start to really panic. I was lucky to meet some people who were in the same 'pen' as me and we started chatting. That took my mind of the race and the cold. Before I knew it, it was flag-off and we swiftly moved towards the actual start-off point.
The moment I crossed the start line, I tore off my disposable poncho and threw away my 'throw-away jacket'. Kept reminding myself to keep my pace and not start off too fast – which is a mistake that most runners make when it's cold. I was initially planning to race wearing a long sleeve top with a vest over and long tights but decided to wear a short sleeved top and wear arm warmers over my bare arms instead. It worked out better! I had the option to strip off my arm warmers if it got hotter and there was less fiddling with loose sleeves.
T, Z, D and Muu were planning to support me along the way but unfortunately, it was too hard to spot me and I couldn't spot them either. Tokyo marathon has to be one of the most colorful races ever with everyone dressed up in a myriad of colors and costumes. I was dressed in polka dotted tights and a pink vest but every other girl had the same idea too! I kept looking out for them on the sidelines but couldn't. Though I didn't see them, somehow, I knew they were somewhere out there and it kept me going. They later told me they tried so hard including climbing a tree and subway shelter in attempt to spot me! I was utterly touched that they spent the full hours out in the cold waiting for me! Seriously, how to find friends like that?!
So back to the race..
I was going at a good pace. I had my pace band on and was tracking 3 minutes ahead of time at every 2km. The first 10km went back quickly without much effort and I was in good spirits. It was still very cold (10-15°C is supposedly the ideal racing temperatures. At 5-8, it's colder and your muscles don't exactly stay warm!). The spectators were enthusiastic, encouraging and cheering everyone on. Energy levels were high and it was an overall good feeling.
I crossed the half-way point pretty pleased, totally on track of time, I was fueling and salting at every 5 miles as planned. I stopped to do a stretch and carried on with consistent pacing. This race, I also decided to try out a different strategy by taking in the provided isotonic drinks at regular intervals (amino acids was the drink sponsor and it tasted like Pocari sweat! Yummy!) in addition to the usual cup of water that I take at every water stop. As the air was very dry, I took in more fluids than usual.
After 25km, I started to feel a slight twitch and tingle in my calves and glutes so I decided to stop and stretch. I was still keeping pace but I could somewhat feel my performance fading and it was getting harder to keep to pace. At this point, it got harder and longer (or felt longer) to cross each km. I started to stop more frequently to stretch and by the time I hit the dreaded 35km (where almost everyone hits the 'wall'), I was not exactly on track to break a 4:30 timing. But I decided to keep pushing and cover each km at a time and see how it pans out. Received a wedge of orange from a spectator which was refreshing but skipped the mini cakes and whatnots that were given out by both the sponsors and crowds – not a good idea to try something which might give your tummy problems if you've not eaten it before!
The last 5-7km was really tough. The route was less interesting and it was an uphill and I started seeing more people walking. Some where obviously cramping and in pain and I felt really sorry for them because that was me at Chicago two years back and I tell you, it totally sucks because you want so badly to push forward but your physical body holds you back. To keep going on, I stopped more to stretch (to prevent acute cramping) and kept pushing.
When it finally came to the 40km mark, I felt lighter and tried to pick up pace. But no matter how hard I tried, my pace stuck at 10:15-10:40min/miles (compared to the consistent 9:40mins/mile that I was clocking in earlier on). Then I decided to stop looking at my pace and switched to the total time clocked and used that as a goal to propel me faster. I knew finishing under 4:30 was now impossible but I also knew that if I pushed hard enough, I would still do a personal best (PB) and get a pretty good timing. To stay focused, I played my 'power songs' on repeat, looked forward and skipped the last water stop.
Finally, the last 200m came and I picked up pace (slightly). It was the longest stretch of the race. It's such a short distance yet seems so long at that point in time. After what seemed like forever, I spotted the finishing line and sped up breaking into a sprint ignoring the cramps and pains and crossed the line overflowing with emotions and with tears in my eyes.
I don't know why but I never fail to get emotional whenever I finish a marathon or accomplish a PB. It's this indescribable feeling that hits me  and probably what keeps me addicted to racing. My watch registered 4:32:05 and my heart was literally jumping for joy! I had beaten my previous PB (in NYC) by 11+minutes (4:43:32).
…
The post-race is always a blur to me. You receive bottles of water/isotonic drinks, banana, fruits, bars, get a towel draped over you, and this part I never understood – you are made to walk kilometers before exiting the grounds! It was like negotiating a maze before I was finally reunited with T and the rest and I was completely exhausted by then!
The sweeties put up a picnic mat for me to rest before the long commute back home. Muu was all excited but he also did turn up his nose at me probably because I stink and it felt so good finishing my best marathon (till date) with loved ones celebrating with me after it all!
Post-race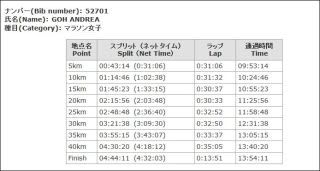 The official results or timing – 4:32:03
T keeps saying he's so proud of me. He was secretly not optimistic that I could do a PB because I was not training as much as I did for NYC and I was so sick twice. My splits were consistent so my pacing is fine except for the last 2.2km which I took such a long time to complete and might have actually made it for 4:30. But it's okay. A PB nonetheless and an achievement that I'm proud of!
Walking the next day was brutal. My left knee and ankle were grumbling loads and walking up and down the numerous stairs in Tokyo was painful. Day two was better (also probably from the massage T gave me and I had some sprays and creams from D) and dare I say that today, I'm almost 100% fully recovered!
Now, I can take a complete month's rest from running -hehe, I'm not thinking of the next, yet. But perhaps give me a few more months and we'll see. T is now inspired to return back to marathons (bwahahaha) and maybe, next will be Paris/Honolulu/London/Berlin.
* Photos of my beloved supporters, courtesy of Daniel
* Previous race reports of New York Marathon and  Chicago Marathon.
* Tokyo marathon has to be one of the races with the funkiest costumes! People were running in SUITS, I saw 'Jesus' running with a cross on his back, barefoot and only in a towel around his waist.. I ran next to Minnie Mouse for awhile and it was just insane on the number of people running in costumes – no idea how they do it!
* So so glad I didn't get tummyaches during the race and cramps were manageable!
2 Responses to "Tokyo Marathon"
Marie Says:
March 8th, 2012 at 19:52

I read you blog on and off since LJ and we met one at Osim, you've come so far!

I know the feeling you're taking about and although I only do 5km runs till now, it still makes me happy when I cross that finish line :).

Pat on the back!

Andrea Says:
March 8th, 2012 at 21:25

I remember you!

Doesn't matter the distance as long as u enjoy doing the sport that u engage in , that's what matters thanks hehe
Leave a Reply