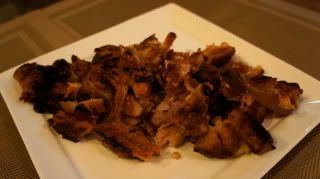 Not exactly how it's meant to look like – this crispy roast pork which resembles more like German pork knuckles, is still considered quite a successful attempt by T. He brined the pork belly for 24 hours then sous vide it for god knows how many more hours and roasted it in the oven. The meat was tender and tasty and it was actually good albeit artery clogging and greasy – it's fascinating how much grease comes out of that pig!
We've decided that this is the first and last time roasting pork belly and for two main reasons. We still want to live a fairly long and healthy life and eating a few pieces was enough to last us a lifetime and the most deal-breaking reason of all? The Studio smelt like 'roasted pork' for days and days. Each time we stepped into the house, we smelt it. It was almost nauseating. The smell seemed to permeate everywhere. I remembered the first few nights going to bed and pulling the covers towards me and sniffing and groaning as I smelt the roasted pig. It took many days of turning on the air purifier, burning candles and throwing the windows open to air the house, the finally rid the house off the obnoxious smell.
Hullo and goodbye porky pig!