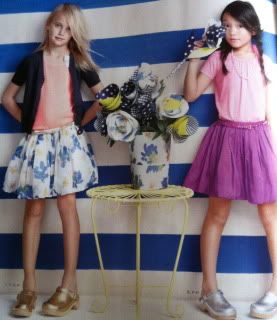 I love browsing happy reads that make me smile like the Crewcuts catalogue (more pictures below) and envisioning this is how I'll dress my future daughter (and son) if I am so blessed with one. Kids' clothes these days are so funky and fashionable!
Speaking of kids, I'm happy C started a blog for lil Suri. If you want an overload of cuteness, chubby legs and the funniest expressions, check out her blog! She's really a feisty little one that makes her extra special.
Other good things this week are some videos that T shared with me. He's like the master in finding great videos and he'll share them with me. Often, I land up re-sharing them – since he never ever blogs, and hope you'll enjoy them too!