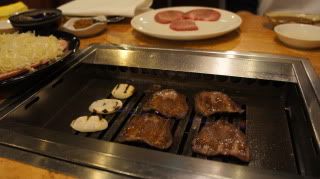 The trip won't be quite complete without a meal of yakiniku i.e. MEAT and more MEAT!
When D was in town and met up with T, he told him that he and Z discovered a new yakiniku place which was good and not as pricey as Sutamina-en. We were looking forward to that meal and when the day came to check it out, it was almost perfect since it was quite a bitter cold day and BBQ beef and sakae seems to be a comforting combo for food.
We sampled a couple of beef types than went back to our favorites which for me, was the tender slices of beef top with a heap of onions (negi). OMG that was friggin' good and I couldn't get enough of it! Some might argue that with bbq beef, no matter the cut, it'll taste somewhat the same but it does make a difference and it does taste different. So splurge a little and opt for the better cuts.
Rashomon is actually a Korean BBQ place so you'll find signature Korean dishes like the pancakes (super yummy!) and the best meal round up – rice soup! We had beer and sakae to go with everything and by the end of it all, we were literally in high spirits as we made our way home, giggling and smelling full-on of bbq meat 😛
Rashomon Yakiniku
Funamachi Yamashita Bldg
101-11 Funamachi, Yotsuya 3-chome
Shinjuku-ku
+(81) 03-3359-9675 
Continue reading »