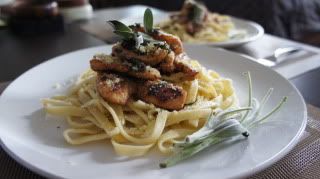 T's succeeded in making an awesome perfect tomato based pasta sauce so my goal was to find an alternative (aside from pesto) sauce that was light yet tasty.
It sounds very sinful – brown butter and 6 tablespoons of it but can I assure you that it isn't?! The butter is used to saute the chicken and coat the pasta so it is light with aromatic hints of butter and the lovely unique infusion of sage leaves. The original recipe called for nutmeg but I prefer to substitute it with cinnamon. You get the subtle woody fragrance and the beautiful brown specks that show up on the pasta.
I'm filing this as one of my favorite recipes for a pasta sauce!
Pasta with Chicken in Brown Butter, Sage and Cinnamon (serves 2)
Ingredients:
2 servings of pasta (I used our homemade pasta)
0.5 pounds/ 230g boneless skinless chicken breast/ chicken fillets, cut into bite-sized pieces
6 tbspn unsalted butter
15-18 small fresh sage leaves/ 8-12 large, thinly sliced
1/4 tspn cinnamon powder
Sea salt
Black pepper
Parmesan cheese
1. Place butter in a skillet over low heat and cook till it bubbles.
2. Add the chicken and saute till the butter has darkened and the chicken has browned nicely and is cooked through.
3. Add the thin strips of fresh sage leaves to the chicken and butter, sprinkle the cinnamon powder in and saute briefly till it becomes aromatic.
4. Serve the chicken and sage and butter mixture over the cooked pasta, sprinkle with black pepper, sea salt (to taste – salt brings out the full flavors nicely) and parmesan cheese and garnish with a few sage leaves.
5. Toss well before eating!

13 Responses to "Pasta with Chicken in Brown Butter, Sage and Cinnamon"
Leave a Reply