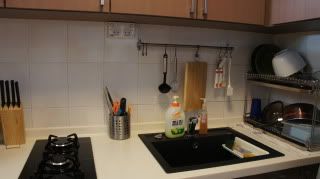 This post comes about for several reasons.
Firstly, thanks from the bottom of my heart for all the lovely comments and emails that have been streaming in regarding my cooking entries. I am glad that everyone is enjoying the sharing of recipes and getting inspired from my cooking adventures
It encourages me and inspires me to keep cooking and baking! I am also happy that many are trying out the recipes and letting me know that it's been successful. Please keep them coming in!
So I also had a few questions around cooking in a small kitchen and whether that limits what you can cook ecetera. I actually laughed when I saw the questions because the truth is, T and I live in a tiny space. Tiny meaning, just under 500 sqft studio so you can imagine how ridiculously tiny the kitchen is! In fact, I can safely say, most of you would likely have kitchens larger than ours so the answer is – don't let the size of your kitchen deter you from cooking!
Just for the fun of it, I've decided to show some pictures of our tiny kitchen. First one above is our small stove with just TWO hobs. In reality, it is mostly challenging to be using both concurrently unless small pots are used because the hobs are set very closely together. So when I cook, I try to find dishes that enable me to use the stove and oven concurrently. As for the sink, you can see that it is very small – drying rack too. So we basically wash up (immediately) along the way!
Speaking of the oven…