My favorite cake here especially for my birthday, is from Awfully Chocolate cake. Most prefer Lana but I find the former more moist and fudgey. It's always been my dream to attempt to bake one somewhat similar. It will be tough to get it 100% so close to is my goal.
I scoured around the Web for recipes had about 5-6 at hand. Decided on one with edits taking inspiration from others. It proved harder than expected especially when I'm being experimental and not following instructions totally. Let's just say I've never failed so many times trying to bake something! Perhaps third time's a charm, it took literally hours, but the cake came out pretty close – definitely moist and the fudge I thought rawked. However, I am still not completely satisfied and have an idea on how I'll make the fudge more firm. Oh. I also need to work on my slicing skills! As you might notice, the cake was completely lopsided!
The cake was tasted by 8 people who didn't exactly know me so it was a big vote of encouragement when everyone loved it, said it was moist and fudge was good. So yay! I'll continue experimenting till I get it right but for now, uh I'm taking a break – a bit tired of eating chocolate cake.
I've not decided if I'll share the recipe when I've succeeded in getting it up to my expectations, because as my mom said, don't share all of it because you never know. Who knows, I might set up shop next time – unlikely, but it's nice to have some sort of dream.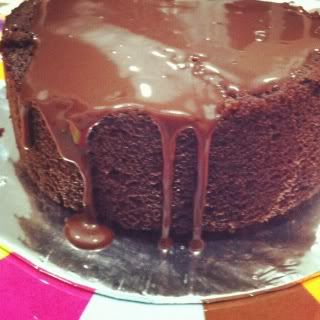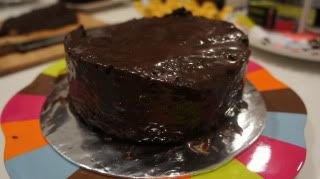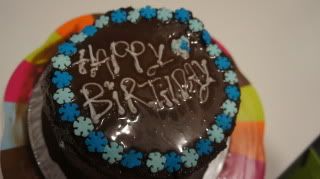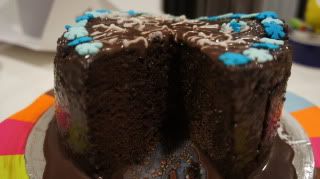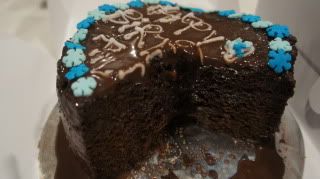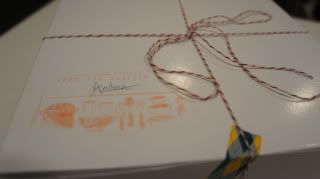 2 Responses to "That perfect chocolate cake"
Scrambled Eggs with Thyme, Parmesan and Truffle Salt Says:
March 16th, 2013 at 11:58

[…] and try out recipes that are complex or time consuming just to challenge myself. For example, that perfect chocolate cake was one tough challenge for me at least and I still haven't perfected it yet up to my […]

Vintage Layered Cakes Says:
June 13th, 2013 at 12:18

[…] to are the tall layered cakes that require skill, precision and a lot of patience. The last time I baked a chocolate cake, it was probably the ugliest cake that I've made. The cake didn't rise evenly, I […]
Leave a Reply