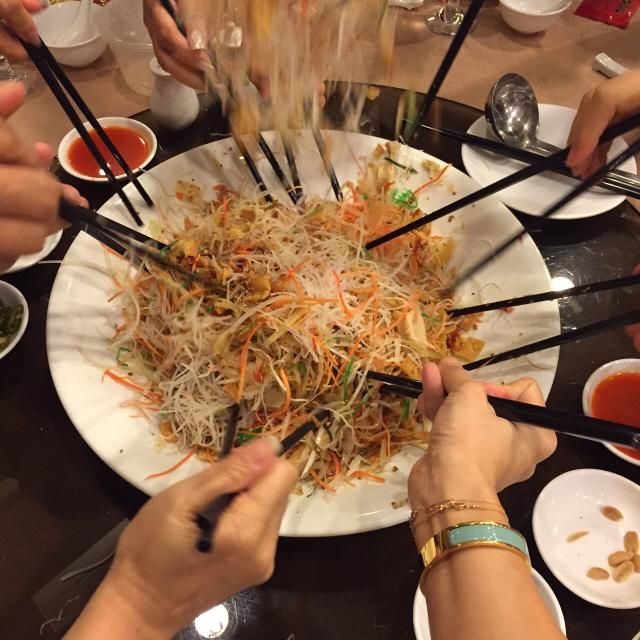 I somehow missed out on the 'Lo Hei' at the office so my official first Lo Hei was done at my family's reunion dinner for Lunar New Year's Eve. Perhaps I've missed Lo Hei for awhile, I thought this was seriously the best?! This was at Dragon Phoenix at the Temasek Club. It's been termed the traditional Lo Hei and I love how the flavors were not overwhelmingly sweet and the sauce seemingly 'too little' turned out to be just right.
The table this year was smaller. We used to require two tables but this year, it's reduced to just one and it keeps getting smaller. My sis no longer joins the reunion with my Dad's sis and my cousin and their respective kids since she has her own obligations and a cousin has migrated to Melbourne with her family so sadly, it's a smaller gathering. But it's the same familiarity of conversations and we are all just older, wiser and I do enjoy catching up with my cousins and seeing three generations sitting at one table. Some things never change and I hope they never will. You can't choose your family but when they are fab, you thank your lucky stars.
While my Chinese New Years have always been quiet as we don't do visiting, I am looking forward to the quiet to rest a little and catch up on some work. I still can't believe that February is almost coming to an end and these days, all I wish for, is more time. We always do but as you get older, the perception of time gets quicker and time truly whizzes by. I want more time, want time to slow down. Sometimes perhaps, I just need to slow down myself, re-focus on what I really need to focus on, live a life that I want and not live one that others want me to.
I hope that wherever you are, you will be enjoying what matters most to you this new year.