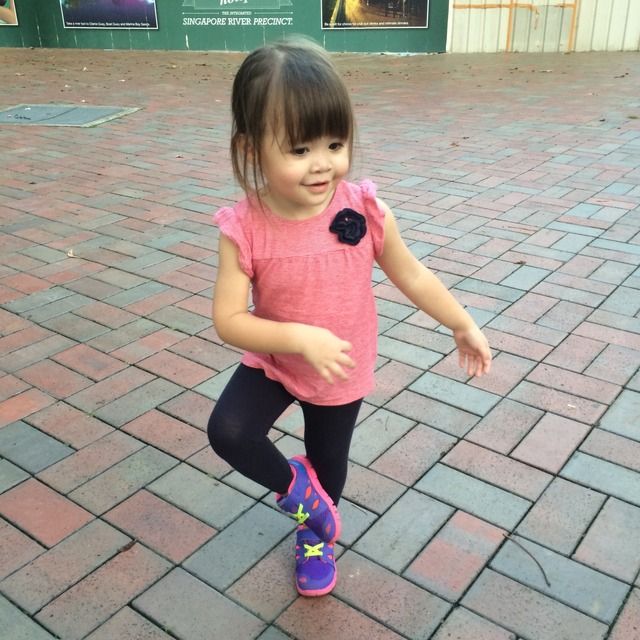 This not so little one grows more each time I see her. Her personality really shines through these days and she is more like a little adult to me than a 2.5yo though I often refer to her as 'the small one'..
She's a bit of the perfect little girl. I'm biased of course.. but you see, she loves everything girly – having her hair tied, tulle and tutus, and ballet, she loves playing 'masak masak', princesses, pink and purple. And then, she loves books – she really has my heart there. She also loves music, running and racing with me, riding her balance bike and scooter though she's quite terrible at it 😛
So what goes on when we 'hang out' these days?
I usually try to think of new activities but go with the flow depending on her mood. The other day, we started off with our tea party, then Noah's Ark and her little brother wanted to play too (She still gets seemingly jealous when I pay attention to him). Then she took off to her room so I said let's go play downstairs. I'll ask her to pick out her leggings and help her dress but that day, she wanted to play a different game. She laid down on the floor and pretended to sleep.
So I whispered, "Is Colette sleeping"? 
And she whispered back, with eyes closed, "Yes."
I said, "Do you want Bunny"?
"Yes."
"Do you want to be covered with the blanket"?
"Yes" with eyes still shut..
"Are you feeling warm?"
She threw off the blanket, opened her eyes, looked at me and giggled and thought for a bit then went, "No."
So I covered her with the blanket again.
"Are we still going downstairs to play? Or are you sleeping?"
"Sshhh."
"Why are we whispering?"
"I don't know." And she peeps out of her blanket and giggles.
"Shall we go downstairs and look for something?"
"Okay." .. still whispering.
"What shall we look for?"
"Lizards."
-_-
"Ooookay…
So she got dressed, she thought it was funny that we had a secret and kept going Sshhh and we grabbed her balance bike and she picked out her purple Nikes and we headed down. She insisted on going to her school to look for lizards and I almost fainted on the spot. Well you know this smarty pants actually knows her way around. We were finding out way out of the condo and I wanted to go in one direction and she went, "No this way." I said, "You are sure you know the way?" She nodded confidently. So she successfully brought me out and as we crossed the carpark, I made her stop and look and that smarty pants got it right each time.
Thankfully, I managed to convince her that the lizards in school were sleeping (Oohh my the lies we tell..) so we went along our usual area to hunt for lizards. I didn't know what I had got myself into.. I mean, what if we never found a lizard. So while I was literally sweating trying to help her in her balance bike and then she got tired of it so I was carrying her balance bike, I suddenly saw a lizard. Monitor lizard, iguana whatever. It was a lizard. I was so excited I squealed and pointed and said, "LIZARD!!!" Well, before that, we both decided if we saw a lizard, we would raise our hands and scream lizard. I was obviously excited (and relieved) we found one. The little one tiptoed cautiously towards the lizard. It was balancing on some metal chains. Then both of us stood there for a good ten minutes, transfixed, staring at the lizard. I finally went, "Shall we look for more?". She was really excited by now and nodded. So we walked about 10m down then she said she wanted to go back to see if the lizard was still there so we landed up walking back and taking a photo of it – she was afraid to stand too close to it so she pushed me towards it *LOL.
And that was the evening. We didn't see any more lizards and I have a video of her saying how she's afraid the lizards will bite her, but we sat on the steps counting the number of runners with pink tops, white tops, blue tops, people on scooters and I also taught her how to watch out for her bike as we were running amok around playing 'catching' and she kept her eyes on her bike to check that no one was stealing it. I don't know if she learnt anything but what I've learned is that to always let a kid go explore, run around, fall, pick up themselves, do new things. And you know what else I learnt? She behaves very differently when it is just us two. She gets closer to me, holds my hand and the moments are precious.
I also love that she loves being read too and flipping through books. Sometimes, I wonder if the love for reading is innate in a child or when you expose the child to it that he/she develops a love for it. I like to think it is the latter because they can't like what you don't expose them to right?
Keep growing my little one and keep staying curious and keep wanting to explore because Aunty A hopes to help you unlock that wonderful potential in you in being the greatest little human you will possibly be. Just don't grow up too fast (or too heavy..)
"Aunty Andrea I want to touch the leaf on the tree!"
I looked at her dad who is carrying her brother so he grinned and went, "Good luck."
So I carried the 15kg leggy 2.5yo and huffed and panted and squeaked, "Ok touch the leaf quuuick."
And she giggles and it's all worth it.