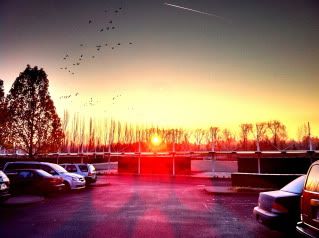 This gorgeous picture was taken early morning in Pottyland and it was a beautiful day albeit wintery cooold. The trip over to +503 also concluded my work trips for the year and can I say that I'm quite relieved?
Some wise person once said that Change is constant. Indeed. However, I would also add that too much change results in insanity. Everyone looks for that bit of familarity, even if it's a whisper of it, just so that you don't keep finding yourself needing to adjust.. constantly. There's been a lot of changes happening. Perhaps, way too much. I guess, sometimes, we just need to hang on tight and see where the ride takes us too.
This was probably the coldest winter experience in Portland. I was prepared with layers to pile on and peel off. It was also challenging to run outdoors so I tried my best to squeeze in runs at the hotel gym and managed just two (not ideal) but better than nothing. As all winters, the days are short but for us, our days were long so it was almost all dark and gloom whenever we were out as we were mostly indoors. We tried to keep our spirits up with a few happy dinners and the usual team ramblings.
Enjoy a couple more pictures below the cut!