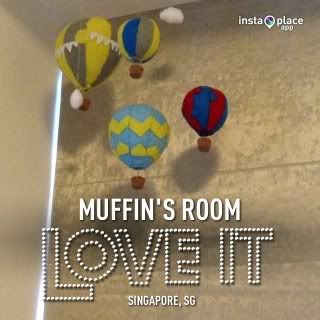 A few days after Christmas, I decided to embark on a project. Or rather, get started on a project that I had planned to do for Kieran's nursery after being inspired by crafty Z. The bub was born two weeks back and I finally got my act together and popped by Art Friends to get craft supplies for my first solo sewing project. For those that follow my public IG, you would have seen photos of the progress and completion of the project which stretched over 6 days (couldn't finish it in a day it was draining!) and clocked in about 15 hours of labor!
Tutorial was courtesy of the extremely creative and talented Joy of How Joyful. Please visit her site to download the template and read her helpful tips. I had to self-figure out some things on my own but it helped that I had previously done a similar crafting project. I wouldn't say it's difficult, you do need to know how to sew basic stitches and have a lot of patience! My stitches are terrible so it's a good thing the hot air balloons are hung high up and no one can inspect the handiwork 😛
The required materials are detailed on Joy's site. Instead of invisible thread (which I found a pain to work with because it's so difficult to see!) fishing line might work better. You'll also need a pair of scissors, tracing paper to trace out the shapes and pin it onto the felt (it's easier than using paper – I used my baking sheet), pins, flat head plier for the attachment of the 'baskets' and I think that's about it. I got all materials from Art Friend – Daiso sells felt as well.
I would say I much prefer cooking over sewing (hand-sewing these were painful!) but I did have some fun doing it. However, I don't think I'll be starting on another project anytime soon. Meanwhile, enjoy the pictures!