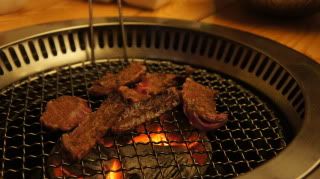 3 reasons why I love Seoul – the cosmetics (Laniege!), shopping (doota, dongdaemon, myeongdong!) and the food mostly barbequed beef, bibimbap and chap chay. Oh. And yuzu. I'd no idea Yuzu is originally from Korea and not from Japan!
The team was thrilled when our training was scheduled to be in Seoul. The upside of traveling with a large team is that it is a lot more fun and sometimes, it makes missing home less painful. We bond over food and time spent together over the long flight times and I think it's always good for the team bonding overall. We had fabulous colleagues in Seoul that were not only hospitable, but generous in their time to take us around and give us recommendations making our work trip memorable and fun.
P.S Looking through the pictures, I'm really missing my ex boss
so J, if you're reading this from Portland, yes, I miss your rubbish non-sensical teasing and witty sh*t that comes out of your mouth!